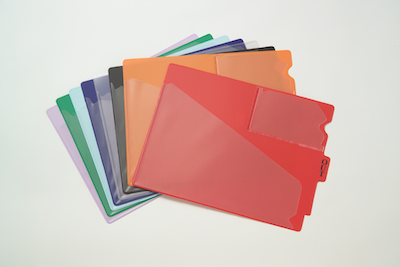 An outguide is an indispensable filing accessory. When a file is removed from the system, an outguide is inserted in its place to alert that the file is being used. The outguide has a small pocket into which a charge out slip can be placed to track the location of the removed file. The large pocket is used to hold documents and information that accumulates while the file is out. Color coding can be used to represent the individuals, dates, departments, etc. Time is saved in locating and repositioning files.
Outguides provide a positive effort to control files that are removed from the filing area. The large pocket will accumulate data that comes in while the file is out, while the small pocket contains a charge out slip. The out tab alerts that the file has been removed. Color coding can provide for department, date or individual.
Over the last 25 years, Chesterfield has probably made every configuration of outguide. If your customer has special needs in their office or department, call and we may have just the solution for you.
For large quantity orders, you might like to have your company name imprinted on the outguide. Call for a quote.
OG-100
Description
Type
Size
Weight / 100
Colors
OG-100 is one of our most popular outguides. Made of rugged .015 gauge vinyl with a frosted clear front.

Available packed 50 or 100

Bottom Tab Letter Size Outguide
9-1/2"H x 12-3/4"W
14 lbs
Red, Green, Yellow, Lavender, White, Light Blue, Navy, Orange, Pink, Purple, Frosty Clear and Glass Clear, Black
OG-224
Description
Type
Size
Weight / 100
Colors
OG-224 has become our most popular outguide. Made of rugged .015 gauge vinyl with a frosted clear front. Slash pocket allows for easy insertion and retrieval of data without completely removing the guide from the file. Available for immediate ship in 9 popular colors.

Available packed 50 or 100

Bottom Tab Letter Size Outguide
9"H x 13-1/4"W
14 lbs
Red, Green, Yellow, Lavender, White, Light Blue, Navy, Orange, Pink, Purple, Frosty Clear and Glass Clear, Black
OG-110
Description
Type
Size
Weight / 25
Colors
OG-110 is an economy outguide used when a full pocket is unnecessary. Small pocket accommodates a 3x5" charge out slip. Made of rugged .015 gauge vinyl with a frosted clear pocket. Available in 9 popular colors.

Available packed 25 per box

Letter Size Economy Outguide
4"H x 13"W
1-1/4 lbs.
Red, Green, Yellow, Lavender, White, Light Blue, Navy, Orange, Pink, Purple, Frosty Clear and Glass Clear, Black
OG-101 (A, B, C, D, AL)
Description
Type
Size
Weight / 100
Colors

OG-101 (click a letter to see varients)

A

B

C

D

OG-101 is available in four pocket configurations. Full pocket with charge out as shown (OG-101C), slash pocket with charge out at top (OG-101A) and (OG-101B) with charge out at bottom and full pocket. Made of rugged .015 gauge vinyl with a frosted clear front. Quick ship in 9 popular colors.

Available packed 50 or 100

Small Bottom Tab Letter Size Outguide
9"H x 13-1/4"W
14 lbs.
Red, Green, Yellow, Lavender, White, Light Blue, Navy, Orange, Pink, Purple, Frosty Clear and Glass Clear, Black

OG-101AL

OG-101AL is the legal-sized varient of OG-101.

Available packed 50 or 100

Small Bottom Tab Legal Size Outguide
9"H x 16"W
17 lbs.
Red, Green, Yellow, Lavender, White, Light Blue, Navy, Orange, Pink, Purple, Frosty Clear and Glass Clear, Black
OG-ST
Description
Type
Size
Weight / 100
Colors
OG-ST is a full pocket outguide with a short tab. It is especially useful in mobile filing systems. Full pocket style with a small pocket to accommodate a 3x5" charge out slip. Made of rugged .015 gauge vinyl with a frosted clear pocket. Available in 9 popular colors by special order.

Available packed 50 or 100

Letter Size Short Tab Outguide
9-1/8"H x 12-1/2"W
14 lbs
Red, Green, Yellow, Lavender, White, Light Blue, Navy, Orange, Pink, Purple, Frosty Clear and Glass Clear, Black
OG-175 & OG-150R
Description
Type
Size
Weight / 100
Colors

OG-175

OG-175 and OG-150R are similar in style to the OG-100. OG-175 is a Legal Outguide.

Available packed 50 per box

Small Bottom Tab Letter Size Outguide
9"H x 16"W
17 lbs.
Red, Green, Yellow, Lavender, White, Light Blue, Navy, Orange, Pink, Purple, Frosty Clear and Glass Clear, Black

OG-150R

OG-150R is an X-Ray outguide made with .025 gauge heavy duty vinyl.

Available packed 25 per box

Small Bottom Tab Legal Size Outguide
9-5/8"H x 20-7/8"W
34 lbs.
Red